Car Safety Monitor
Georgia Science Fair 2021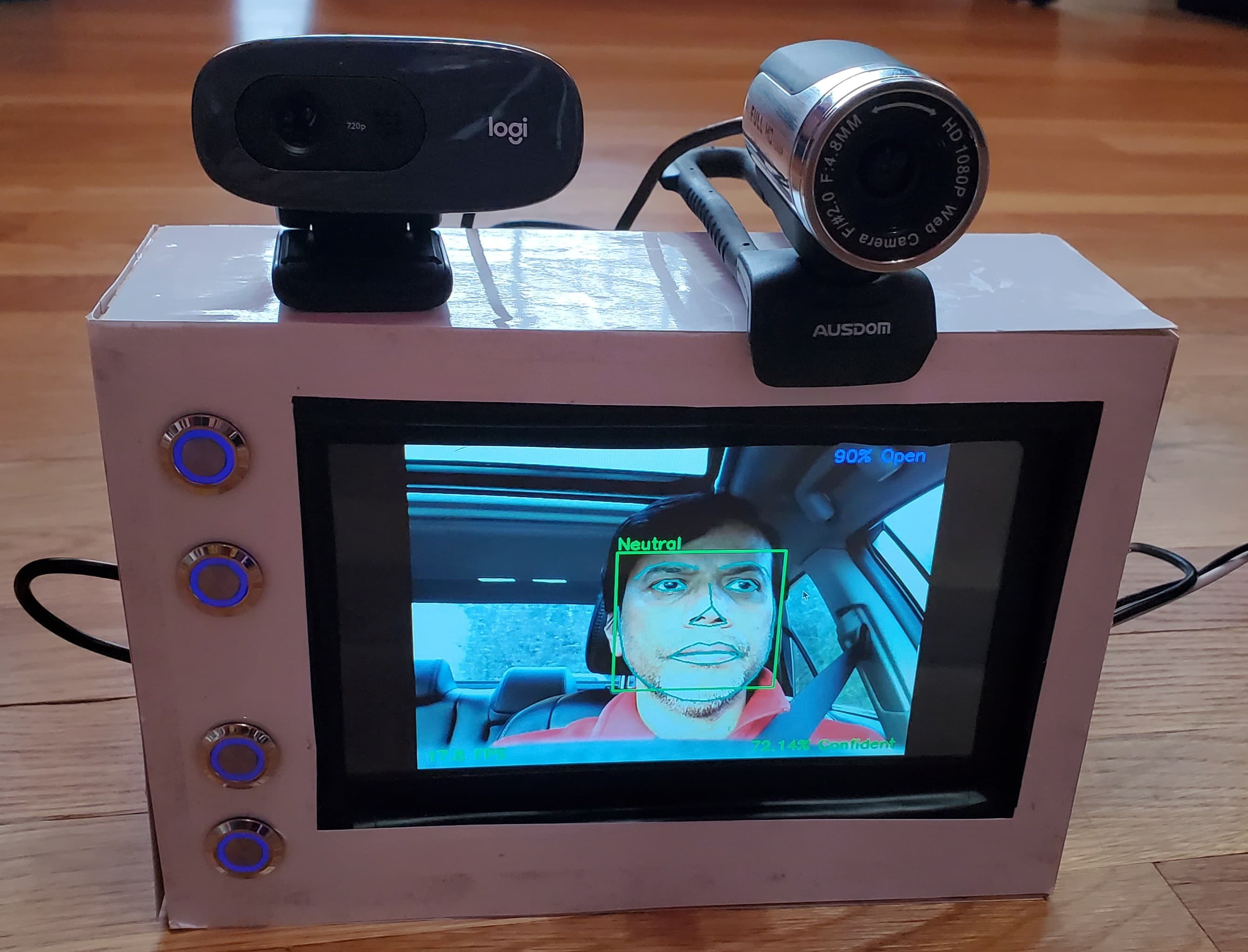 In 2018, more than 470,000 injuries and 4,300 deaths were caused by drowsy and distracted driving alone. Traditional sensor-based technologies do not focus on the driver, as they mainly react to the environment. With the recent advancements in artificial intelligence (AI), I questioned if a standalone device that could detect drowsy and distracted driving using AI, two webcams, and a single-board computer with a high accuracy.

Dlib HOG frontal face detector, the driver's face is cropped from an image from the front camera. Then, Dlib landmark model detects the eye's shape and alerts if the eye is partially closed for 2/3 of a second or more. Blinks can be detected in the same manner, and an alert is sounded if the blink rate is 60% of the baseline, signifying fatigue. A trained VGG16 model detects and alerts about various distractions in the side camera, and a MobileNet model detects (and plays music if necessary) emotions from the cropped face.

I tested my device by having my parents do the specified action (drowsiness, distractedness, or blinking) in two cars and two different seat positions while my device was running. I logged the number of real actions and the number of detected actions (and false positives)

My device could detect drowsiness with an accuracy of 99%, distractedness with an accuracy of 95%, and induvial blinks with an accuracy of 96%.
GSEF 2021
(State)
Best in Category: Robotics & Intelligent Machines
Young Inventor's Award (Patent Assistance)
1st Honors (Overall)
DoD STEM Leadership Prize
GASTC 2021
(State)
1st Place: Device Modification (Grade 7-8)
Cobb-Paulding Science Fair 2021
(Regional)
1st Honors (Overall)
Yale Science & Engineering Award
Cobb Tech Competition (NCTC) 2021
(Regional)
1st Place: Device Modification (Grade 7-8)